So, I went to the premiere of "The Darjeeling Limited" last night at the Academy theater.
What was I doing at one of those big-shot events, you wonder? I asked myself the same question when I was actually there, but the path to getting there ran through FA member George Zaver who's hooked up with these kind of "indiewood" productions and even studio sized productions. He works for Nielsen/NRG - technically in "film marketing" a sort of murky catch-all phrase that comprises the black ops of studio filmmaking. They will bring the film to a potential audiences' awareness by any means necessary. He specifically manages test market screenings and is able to get me into all kinds of screenings and events that I would otherwise never even hear about - much less be invited.
So, there I was. And there was a movie (preceded by a shorter movie). And celebrities. And drinks and food. And a lot of weird, if occasionally great-looking people. And that was that. I always think I'd be misssing something if I don't go to these things when invited. And then I go, and I realize I wouldn't have missed a thing. But I never seem to learn. Here's the important facts: The booze was just beer and wine, but nice beer and wine. And not much of a wait to get it. The food was disappointing, however. Small, mostly cold finger foods - not the scrumptious Indian food banquet I had been fantasizing about throughout the film.
Hollywood people are indeed weird-looking. The Studio Class, as I like to call them, has a particular style and energy that just feels weird to me. Too much stuff. Surgery, botox, jewelry, make-up, hair care, expensive clothes/shoes, fancy watches, high-tech gadgetry, etc. Everyone looks slightly dazed and desperate, like Ken and Barbie dolls come to life and wondering how the hell they got where they are, then feigning smarmy arrogance to cover that fact.
But I stumbled across a few FA comrades, particularly nice ones, which added a welcome surprise to the night. I also saw in the credits that (almost) original FA Member Colleen Bachman was the post supervisor on the film - which looked great. I remember when she got her first job in post - working as an assistant for another FA member, Phyllis Nix.
I also ran into long-time buddy Matthew Greenfield, producer of all of Miguel Arteta's films and now an exec at Fox Searchlight - a very smart and genuinely good and straight-up guy. Nice to know a guy like him can thrive in that world. Finally, I said "hi" to Jason Schwartzman, another really good guy who presented our Vision Award to madman David O. Russell at one of our VisionFest events a couple of years ago and still seems to hold fond memories of the evening. Nice to know.
But those anomalies aside, there's no doubt from the the type of crowd in attendance that this was a studio film. However, Wes Anderson - who also seems like a sincerely decent guy - is extremely talented and has a distinctive aesthetic perspective that is always at play in his films. This is why I am growing to hate the term "independent film". Who knows what it means anymore? Especially when I see "indie films" that are just cheap versions of crappy studio films and studio films that are distinctive and singular (although there are not very many of those, of course).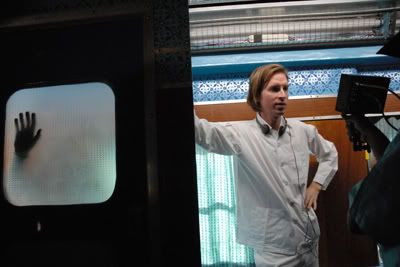 Oh, yeah, about the movie...I found the film to be far from Wes Anderson's best work and although it pokes gentle fun at the "white man as spiritual tourist in exotic lands" kinda thing, it still has a certain annoying sense of privilege and entitlement without the emotional hooks that might make you ignore that feeling. It feels very slight and cleverly shallow - a film made by a hip rich white kid for hip rich white people (even if Wes Anderson is not hip or rich - I have no idea, frankly). It also suffers from celebrity-itis. Way to many "cool" celebrities in clever, but distracting little cameos that makes it feel like the film itself is winking at you.
But the guy is talented and singular, so there is still much there to be admired. The film was surprisingly preceded by a short film Wes Anderson somehow managed to squeeze out of the budget (it certainly didn't look cheap). It was sexy, stylish and vaguely mysterious. It is apparently a sort of "prequel" to the feature. Was it about anything? Who knows? Who cares? It was short. And captivating, nonetheless. Glad we got to see it.
I went home tipsy and out-of-sorts. Not remembering one second of the night the minute I greeted my dog, Yahtey at the door.