Sorry it's taken me so long to post this given that I went to the premiere at the Academy theater two weeks ago. Again, my hook up was the industry-connected George Zaver, who's always a fun time.
It was the usual studio film premiere mix o'peeps that always seems to include a smattering of celebrities, some soon-to-be or almost famous, a handful of industry-famous (writers, directors, studio execs - nobody the general public can recognize), a lot of just plain ol' industry types (agents, assistants, etc.), legions of wannabes and good old-fashioned film fans. Not sure where I fit in. Perhaps the likes-to-sneak-into-catered-parties contingent, of which I'm sure there were more than just a few.
But I'm pleased to say I really liked the film a lot. Is it a masterpiece? No, but in this creative desert, it's really exciting to stumble upon an oasis of fresh ideas and real aesthetics. The film explores the experience of Jean-Dominique Bauby, the 42 year-old Editor-In-Chief of the french Elle Magazine after he suffers a devastating stroke that totally paralyzes him - save for a single blinkable eyelid. He winds up with what is called (in the film) "locked in" syndrome - where one suffers total paralysis, but the brain functions perfectly. Bauby ends up writing an entire book about his experience by code, using his blinking eye to tap out letters of the alphabet to an associate.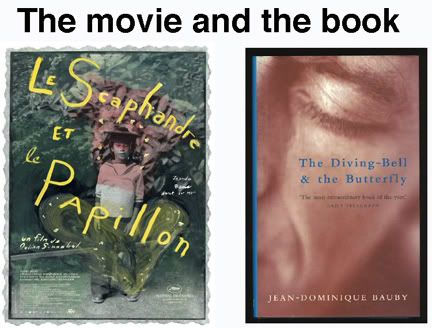 The film takes a very subjective approach to the story-telling, utilizing those memoirs (from the book of the same name as the film) to bring us inside that experience as much as a film can. It cleverly steps out of that subjectivity at key times to create a jarring juxtaposition between what Bauby's experiencing and what those around him are experiencing when they see him and/or try to relate to him.
Artist/Director Julian Schnabel uses his estimable creative powers and visual prowess to give the film real aesthetic punch without ever losing hold of the dramatic energy. However, the film was introduced by the studio's head of distribution (forgot which studio) as being one of the most emotionally involving films he'd seen in a long time. I didn't feel that. Not that it wasn't emotionally affecting, it just kept a kind of distance from raw emotional energy - which I appreciated, for the most part. The film could easily have been gratingly mawkish, which would have been absolutely contrary to the beauty and clarity of Bauby's memoirs. Schnabel was an excellent choice for the film.
The acting is terrific over-all, as much as I can tell without speaking french (another good choice was to do it in french) - although there are a few self-conscious moments when his therapists are speaking to him...in actuality, of course, to the camera. The legendary Max Von Sydow is an exciting surprise (didn't know he was in the movie) as Bauby's invalid father. For me, the scenes with him are the most emotionally bracing in the film.

My only (minor) quibble is that the film is so beautiful. Too beautiful at times. Many of the visuals seem too meticulously, and therefore self-consciously, designed. And practically every woman in it is drop-dead gorgeous. Although all of it is more than pleasant to look at, it unfortunately took me a bit out of the authentic energy of the film. But it's hard to complain too much about yummy french babes.
In the end, the film, for me, was less about Bauby's tragedy and more of a reflection on life in general and the various ways it can be perceived, experienced...and appreciated. Many of us are "locked in", somehow, even with all of our faculties - paralyzed by thoughts, memories, prejudices, dreams, fears. There is pain, but also a kind of poetry in each of our experiences. But also a way out...even in something as simple as the blink of an eye.
The after party was appropriately somber, but still celebratory with the lead actors in attendance. It had a nicer energy than a lot of these things. Maybe because there was no booze or food (just desserts) the obnoxious people left immediately. I spotted Joe Pesci to whom Julian Schnabel dedicated the screening. Why did he dedicate it to him? Hell if I know. Because he was there? I guess even if you are an art-star and formidable director, you can still be just a worshipping fan. I find that to be both very sweet and incredibly annoying in this celebrity-obsessed world.
Go see the movie.