What's an American low-budget indie filmmaker doing at the Berlinale/EFM without having a film at either, you ask? Well, looking for money, of course. But I found much, much more.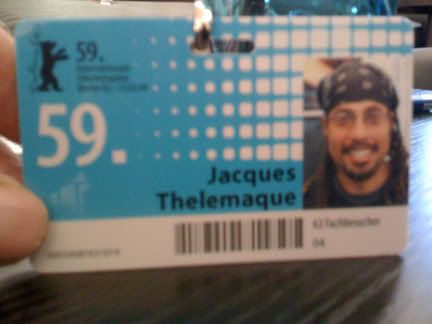 MY BLURRY ACCREDITATION CARD
A lot of the American indie films I'm exposed to through Filmmakers Alliance and at festivals are, for the most part, very...well,....American. Even many of the docs I see. These films are often so infused with a uniquely American sensibility - aesthetic, structure, pacing, cultural references, ideology, etc. - that I often fret about how they will play to a global audience. I truly want to make and support films that speak to a global audience - films that aren't purely genre/entertainment, but still speak the universal language of cinema and don't demand mastery of specific American culture/language/idioms/history.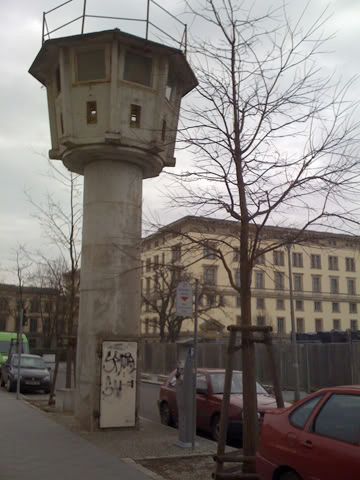 A RELIC OF OLD COMMIE EAST BERLIN - THE GOOD OLD DAYS
I was lucky enough to be invited to help produce Babak Shokrian's next feature film "The Apology". Babak is an FA member whose first film, "America So Beautiful", played at the Berlinale in 2002 and I attended it with my then-wife Diane Gaidry, who was in the film. We all fell in love with Berlin, the festival and the global filmmaking community - which is very different than the American independent filmmaking community in some subtle, but key ways.
Most obviously is that fact that many global filmmakers are independent by design. Places like France, Germany and Sweden have big studios, but not nearly as many as the U.S. and not nearly as dominant globally. So, most filmmakers find financing through state-supported agencies - or, at least, some significant portion of their financing. And the focus for these agencies, more often than not, is on how the filmmaking process can enrich the economy AND the finished film can enrich the culture of the funding region. So, there's no focus on big stars and big box office. Yes, the potential of those things are exciting to the funding agencies, but not the focus - as they are in so much of U.S. financing strategies. Sounds lovely, doesn't it? And it is, but we must also keep in mind that those state-supported agencies are still limited channels of funding and, thus, highly competitive.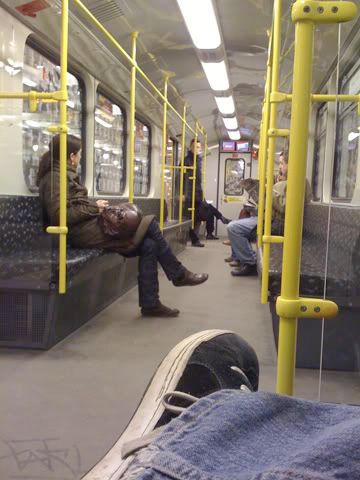 TYPICALLY CLEAN AND ALWAYS TIMELY GERMAN TRAIN/SUBWAY WITH MY BIG FOOT IN THE FOREGROUND
However, Babak's new film is an excellent candidate for state funding in Germany, as well as for one of the large regional funds available to filmmakers . Here's the synopsis for the film:
1992. FARZAD FOROUZAN, at one time Iran's most celebrated showman, broadcasts anti-fundamentalist rhetoric from an underground radio station in Bonn, Germany, years after having fled the Islamic Revolution of 1979. Farzad's glory has long since faded -- no longer is he meeting with the Queen of Iran, standing before cameras or beneath the bright lights of the stage. Instead, he sings in a small Iranian cabaret to make ends meet.
Vilified for his beliefs and homosexuality, he's burned the bridges that lead to his beloved motherland, but is introduced to a loyal 'fan' who promises to secure his return to Iran where millions of people supposedly await his return. "Khomeini is dead", the fan proclaims, "Change is in the air". Farzad falls prey to his own arrogance and longing - for his homeland and his ailing mother. He entertains the idea of actually going back to Iran even though there's a FATWA on his life. However, he soon discovers that the fatwa would be lifted, allowing him to return safely...under one condition: He must give a public apology for his outspoken criticism of the regime - thus denouncing his passionately held beliefs.
The apology is clearly intended to humiliate Farzad and show Iranians all over the world the current regime has won the ideological battle between East and West. Although Farzad himself believes simply that love and not hate should be the guiding principles of his country and religion, those principles have not guided him quite so simply in his personal life. As the time draws near for Farzad to make a decision, each detail of his life informs that decision as he struggles to resolve the ideological and the personal - with the direction of his life...perhaps his life, itself, hanging in the balance.

So, the film shoots in Germany, has a modest budget, can use an all-
German crew and a nearly all-German cast. It's unique, but based on a true story and character. So, off we went to the Berlinale/EFM to look for money. It was me, Producer Elizabeth Stanley and Babak.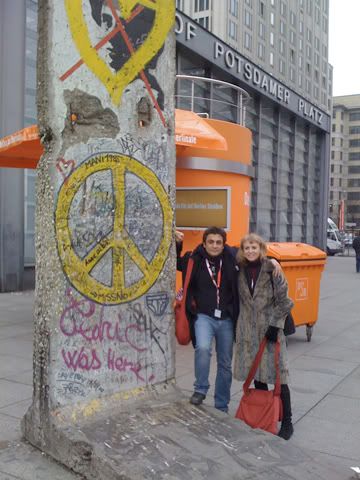 BABAK AND ELIZABETH STANLEY NEXT TO A PIECE OF THE BERLIN WALL
(IT WAS THE 20TH ANNIVERSARY OF IT COMING DOWN)
The best, most effective strategy for attending any event, for any purpose, is to do a lot of preparation in advance. Even if you are just going to the festival to have a good time and see films, you should do all of the pre-fest work of obtaining a list of the films, getting passes/tickets, securing travel and lodging, finding out what other events/parties are taking place and soliciting invitations, finding out who else is going or who you might know there who can add to the experience, etc., etc. This is all done well in advance of actually showing up. Yes, there's a ton of stuff you can do on the fly, but it's much harder and you risk being shut out of a lot of things. Of course, this is especially true of larger festivals like Sundance and the Berlinale/EFM, where there is soooo much going on, but still a lot of competition to get into all of these things.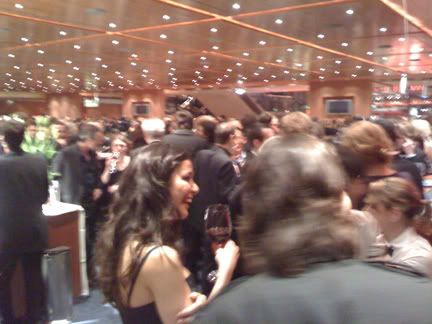 OPENING NIGHT AT THE BERLINALE - BIG, CROWDED, SWANKY FUN
Elizabeth is a smart, diligent and determined worker who has built up a lot of contacts over the years and was able to secure some good meetings for us prior to heading over there. As usual, I was able to get us some party invitations through friends Peter Belsito and Sydney Levine of Film Finders, who know a ton of people and never miss the Berlinale/EFM. In fact, they own a nice apartment in Berlin and we had dinner with them there one night. Party invitations are always important because that is where a lot of connections/introductions get made and even where serious business sometimes gets done. But you have to know which parties to go to and whom to contact to solicit invitations. For that, you need to talk to people who have been there before you. Just keep in mind that nearly every film premiering there has a party and nearly every film council from around the world has a reception. Then there are "company" parties and other little dinners and get-togethers.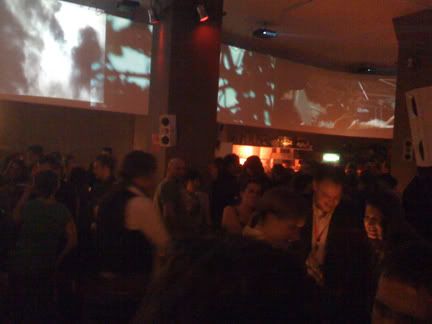 THE ROCKIN' SHORT FILM PARTY AT HOME BASE - WHICH IS RUN BY THE VERY SMART AND VERY COOL SIMON CHAPPUZEAU

Hotels (and short term apartment rentals) are relatively inexpensive especially in the former East Berlin in neighborhoods like Kreuzberg and Prenzlauer Berg. I stayed with my friend, Christine (pronounced like Christina) Knauff whom I've known for years (and met through a friend in L.A.) and who has a large, lovely flat in Prenzlauer Berg that she shares with her very sweet boyfriend, Thomas.
If you can demonstrate industry credentials, you can get a limited pass to the Berlinale/EFM for 100 Euros (about $130 at the time) - which you order online at the
Berlinale website
a few weeks in advance. This allows you to go to select screenings at the Berlinale and entrance to certain events and parties. It's the best ticket in town. It also allows you to walk into the Market. The festival screenings are all over town in some great theaters, but the screening hub is the Cinemaxx multi-plex located in the center of Berlin, Potsdamer Platz - where the wall used to be, but is now a very modern, developed area. It's also where the festival headquarters are located as well as the Berlin Palast (the big palace for many of the bigger films and premieres). The EFM is located inside something called the Martin-Gropius building a relatively short walk from the Cinemaxx. However, Berlin can be cold as hell during that time of year (early February) and, when it is, that walk can feel like its miles long.
The Market is a big hall overrun with temp offices representing the major film companies and state-run film councils from all around the world. Notably, there is no U.S. presence. And no U.S. party. Probably because there is no U.S. film council or governmental Arts agency at all. Anyway, it's not unlike AFM, only it doesn't feel nearly as cheesy and doesn't cost you an arm and leg just to walk through it. If you haven't set up meetings previously, you can go around to the various film councils/companies and try to set up meetings. But you better have done your research so that you have something interesting to pitch and a good reason for them to meet you.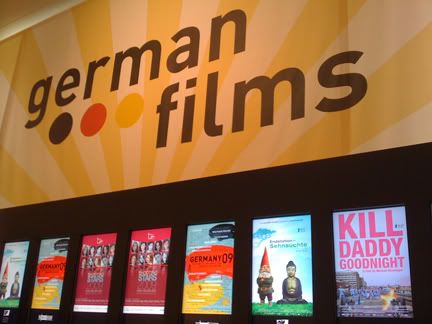 THE FANCY GERMAN FILMS SUITE AT THE EFM
So there's the set-up. Now, here's what happened: Meetings. Meetings. And, oh, did I mention...meetings. That was followed by parties and more parties, but they still felt like meetings. The Opening Night party was fancy and very fun and well-stocked with great food and booze and lots of German film bigshots. We had fun making American asses out of ourselves. The EFM and film council parties are typically swankier, but the film premiere parties are more fun. And sadly, we didn't see a single film. Not one. I feel so ashamed.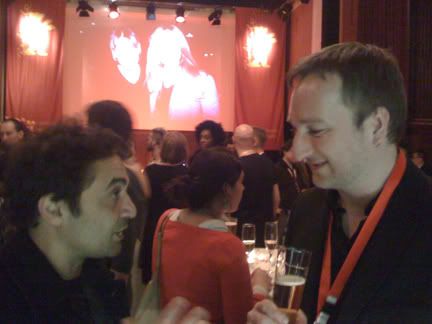 BABAK AND CHRISTIAN AT THE PANORAMA PARTY
But we were there to work and work we did. We met with lots of companies, mostly German, to talk about co-producing "The Apology". The way it works is, if you want to get German state funding, you need to partner with a German production company. They will have relationships with the funders (ideally, anyway) help manage the production and see to it that you meet the criteria for funding...if they respond to your project. Every one we met with responded very positively. But none has signed on the dotted line, yet. But our follow-up work is just beginning. This is a long process. But I'm learning a lot about international financing which I will share in a later blog.
What little I did experience of the festival seemed fantastic, as always. It is a HUGE festival with numerous different sections and sidebars, but always impeccably organized (very German). Our hostess of sorts, Ela Gurmen, who runs Guest Services for the Panorama section of the festival, was lovely and gracious and hooked us up with all kinds of fun. We met her back in 2002 when we first came to the fest. Sadly, I saw very little of Berlin, but saw much of it on previous trips. It's really a fun, beautiful, exciting city. And easy for American-types (non-multi-lingual) like me to communicate as so many Germans speak some level of English. The food is, well, German. But some of the more ethnic neighborhoods have amazing food. And the range of choices seems to get better every year.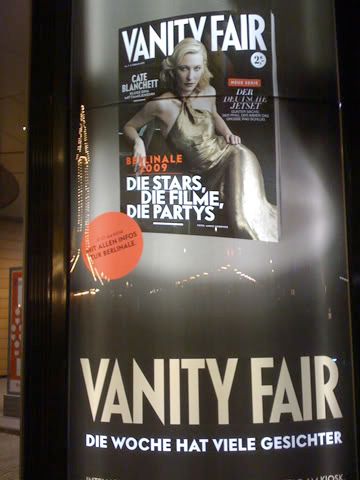 AMERICAN FANTASY/CONSUMERISM SPREADING THE EARTH - NOTE THE ARTICLE TITLES OF THIS MAGAZINE - IF THIS WERE ENGLISH IT WOULD BE HOW I FEEL WHEN I'M IN L.A.
If you want to go to an amazing festival, hook into the Global filmmaking community, learn about international film financing and have a generally awesome time in a great (but very cold) European city, then I suggest you start planning now to attend Berlinale/EFM 2010. Buy your plane tickets early for the best price, get lodging early, do your research to set up meetings (if appropriate), secure party invites and/or visit great Berlin tourist spots. Get your accreditation (pass) early, get a movie schedule and pick films and finally, find out who else will be there to share the fun. You can count me in.