I meant to write and upload my blog several times WHILE I was in Park City, but was always too busy experiencing it to take the time to comment on it. I would certainly suck as a Twitterer. So, here I am in the Amsterdam airport on my way to Berlin with an hour and a half to kill before my flight. Finally I am getting around to blogging about Park City 2009. And what do I have to say?....Not much.
Not because it wasn't a wonderful time. It was, indeed. Maybe BECAUSE it was a wonderful time. I've been to Park City/Sundance/Slamdance/Other Dances so many times, it's like clockwork for us. When and how to get a place to stay, to get tickets, to get party invites, etc., are all practiced exercises about which there was, thankfully, little drama. I actually wrote a little Sundance handbook a few years ago for filmmakers who had films in the fest (I had "Transaction" in 2006). But it's a helpful guide for anybody heading up for the fest. If you want a copy, just send me a note with your return email and I'll send it off to you.
We drove up again, as usual, because we have an outreach table in the Sundance Filmmaker Lodge every year and have to haul all of our stuff for it. The drive from LA is about 12 hours with leisurely stops (particularly in Vegas), and really easy with 3 people. It was me, Executive Director Amanda Sweikow and filmmaker P.J. Letofsky, who's self-distributing his film "Polly's Global Walk", the doc he made about his sister walking around the world to raise money for cancer research.
We only went 5 days this time and only saw 4 movies. And sadly, didn't get over to Slamdance at all (making the title of this blog misleading). Between having that Outreach table, knowing a lot of the programmers and filmmakers and hanging with people who all had Sundance passes,....that fest consumed us. In general, the economic crunch was clearly felt - which was a minus and a plus. The smaller crowd might have hurt the fests in terms of attendance and sponsorship, but it made it much more pleasant for us attendees. There was still plenty of people (and plenty of the right people) in attendance, but you could walk Main St. unmolested. And although many of the parties were cut back or cut out completely, it eliminated a lot of the clubby, party crowd that clogs the streets every year and doesn't give two shits about film. Swag culture was way dialed back, too (I didn't even see any of those ridiculously upscale swag boutiques), which no one missed except the celebrities and hanger-ons who get all of that gaudy stuff. And finally, getting tickets to films (if you didn't purchase a package) was not only possible, it was fairly easy.
My two favorite Sundance parties each year are the Shorts Party and the World Cinema Party. I missed the World Cinema Party, having left before it took place, but had a good time, as usual at the Shorts Party. Adobe used to sponsor it somewhat lavishly, but they had to cut back last year and didn't sponsor at all this year. Nonetheless, the party didn't suffer one bit. Short filmmakers are an eager, passionate lot - unaffected by the anxiety that swirls around the feature filmmakers who must use the Sundance opportunity to desperately work for a sale or launch themselves in some way. Short filmmakers are just happy to be there and it shows in their attitude.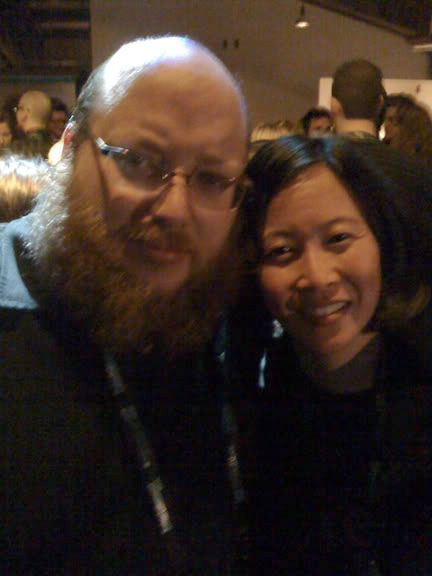 GOOD BUDDY AND PRODUCER ROGER MAYER ("BIG RIVER MAN") AND SUNDANCE PROGRAMMER KIM YUTANI AT THE SUNDANCE SHORTS PARTY
Unfortunately, since we only saw 4 movies, that part of the experience was rather hit and miss. I loved "Hump Day". It's a true Indie Film, although it is certainly not cinema art (Indie films, unfortunately, rarely are). It is unabashed entertainment, but in the best sense of that idea. First of all, it's very funny and full of playful tension. But it is also very smart, touching on a lot of broader ideas and themes without ever slowing down the comedic or narrative energy. I'm pretty sure it got picked up and will hit theaters sometime within the next year...or two, or whatever strange timetable these distributors follow. So, I won't say more about it. I hate spoiler alerts.
We saw a Documentary Shorts program that was quite good, but disappointing in light of the fact that it was the ONLY doc shorts program. It had two sort of informational pieces (one would have sufficed, especially since they were preaching to the converted) and a 40 minute doc on the late actor John Cazale (whose work I love and who more than deserved this well-made love letter) that was produced and/or commissioned by HBO and will be seen by millions (and therefore, in my opinion, does not need this platform where it takes up 40 minutes of the only doc program). But I'm kind of quibbling because I was indeed happy to see it. Finally, the program had a gross-out doc on a body modification freak who chops off his toes and fingers. There is indeed much to be explored in such extreme "art", but this piece, for me, was simply voyeuristic and nauseatingly fetishistic. Again, though, I'm quibbling because it was nonetheless interesting to know a guy like that exists.
The other two films "Lulu and Jimi" (stylish and fun/funny, but very slight and familiar) and "The Anarchist's Wife" (handsome and dull - earnest and predictable) don't compel me to mention anything more about them.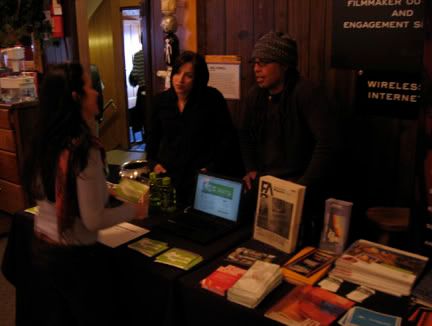 FA EXECUTIVE DIRECTOR AMANDA SWEIKOW AND ME AT THE OUTREACH TABLE IN THE FILMMAKER LODGE
I skipped the panels even though the much-admired Ted Hope anchored one of them. There was still a lot of talk at Sundance about his keynote speech in September and, in general, about the fate of indie films (the topic of his panel). There's a lot of enthusiasm for self-distribution and, finally, some widespread agreement that the old distribution paradigms for indies is almost completely dead (there were definitely still some "sales" this year at Park City) and never really had much of a life for most indie films. We'll see what the future holds for indies. Only time will tell. That's why I skipped the panel. Although I appreciate their comments and insights on the business as it is, I don't want to hear any "experts" - no matter how much I admire them - reporting back from their personal crystal balls. The story will play out however it plays out and we'll all flow with it all in whatever way is necessary.
So that was it for 2009. Yes, there were fun details about the parties and gossip about this or that person and all kinds of other crap I could fill this blog with. But the bottom line is that Park City/Sundance/Slamdance/etc. - for all its excesses - is still the place to be for filmmakers of any stripe. It is an awesome filmmaking convention. Truly that's what it is. There's definitely festivals and kind of a market, but there's so much other stuff represented by every strata of filmmaking society that it ultimately is nothing less than a wild, ten-day filmmaking convention. You'll find nearly every person you need to meet or re-connect with there and you can learn/accomplish any number of filmmaking goals. Oh, and there's always good films. Say what you want about the commercialization of Sundance, but in the end, it's all about the films. And there are always good ones to see.
Our goals were to connect with a few potential investors and organizational partners, to launch our
Ultimate Filmmaker Competition
, watch some films and go to some parties. We were victorious! And we had a blast in the process of being victorious....
ON THE ROAD HOME FROM PARK CITY (YES, THAT'S MY AIR FRESHENER HANGING FROM THE REAR VIEW MIRROR AND, YES, IT SAYS WHAT YOU THINK IT SAYS)