My friend and creative Collaborator Sean Hood got back behind the camera to film his short "Zacariah" (formerly "Sounds Through A Wall"). The short script was a winner of the Los Angeles Short Filmmaking Grant administered through us over at Filmmakers Alliance (FA) and became a sort of "family" project as it was produced by FA founding member Cain DeVore and FA Vice-Prez Amanda Sweikow.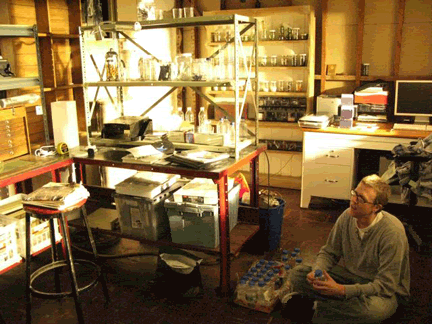 Sean Hood contemplates his film
Sean has been doing a lot of professional screenwriting (as in paid) over the past several years and that is what keeps him in silk suits and shiny cars. But he is an artist/filmmaker first and foremost, and the urge to make a film never stops burning within him. However, life and work priorities kept him away from actually making a film over the last 10 years other than a sketchbook he and I did together back in 2003.
I bring this up because it is easy to find yourself in this situation and it is one you must vigilantly guard against or challenge yourself to change. I myself have not shot a feature in 8 years (although I finished the film not too long ago) and have not made a short in almost 3 years. Unacceptable, even if understandable. I spent the first of the last three years touring with the short to numerous festivals, the second year distributing the feature and the last year recovering from personal crises and trying to stabilize my crazy life (and co-producing 3 films). So, on one level, I can forgive myself.
But, like Sean, the desire to make a film never stops burning within me. And making a film these days - especially a short film - is so accessible, there's really no excuse short of some catastrophic mental or physical disablement to stop us from doing what is most essential to our nature. And, in fact, ignoring that crucial part of ourselves does far more harm than good to our psyche - no matter how financially stable we are able to make ourselves during those long non-filmmaking periods.
Sean had finally reached a point where he was determined to make his film by any means necessary. In addition to the money and resources he got through the LASF Grant, he had planned all kinds of fundraisers and solicited support from all he knew. For a short film, there are all kinds of ways to raise money. And Sean was exploring them all when providence lent a hand and a nice financial windfall showed up unexpectedly, allowing him to throw the production into high gear. Keep in mind, there are many ways to raise money for a short film (fundraising events, garage sales, personal donations, corporate grants, just plain begging for it, etc.) and there are all kinds of films that can be made that don't demand many financial resources. In other words, there is nothing to stop you financially.
The next step for Sean was to surround himself with a support crew that would contribute to the film in a way that allowed him to focus on guiding its creative vision. And in Cain and Amanda (and many others) he did a great job. But this is due, in no small part, to the support and guidance he has historically given to our filmmaking community. He's been there for us, so we naturally wanted to be there for him.
The rest almost automatically falls into place. Sean shot his short on the fancy new RED camera, but it wouldn't have mattered if he was shooting on a 1990 Hi-8 Video camera. He was making a film. He was in his element. He was answering the call of his essential self and didn't let anything stand in his way this time.
The mythical RED camera
In my case, what challenges me is not the means, it's the meaning. Sean had his script, which he'd been developing for awhile prior to winning the Grant. I, however, have been struggling to wrap my arms around a concept that works for me on all the levels on which I would want a film to work. In other words, it is not enough for me to devise a clever or even a moving story. It is not enough to create amazing visuals, sound design or some other dazzling filmic component. It isn't even enough for me to make a film that has something meaningful to convey. The film I make must work simultaneously on all of those levels and more. It should be compelling narratively, arresting artistically and rich thematically and metaphorically. In other words, the film should realize as much of the poetic and visceral potential of cinema as is possible.
Now, I know this is a tall order and, in some ways, just another barrier I create to stop myself from making a film. I simply need to get over it. All of us can only make the film we are capable of making at the moment. And it will lead us wherever it leads us. I have ideas. They may not organically work on all the levels my "dream project" might work on, but they will allow me to investigate enough creative issues to be worthwile. Watching Sean on set was inspiring and motivating. It was like he'd been making films every month for the last ten years. He was focused and assured. He was doing what he was meant to be doing. And it was NOT about the resultant film. It was about the process of doing...of learning...of growing...of creating.
Time for me to experience my own process.