One of the perks of being around so long is that you attain a certain level of status by attrition (the survivor, the fixture, the dude that just won't give up and go away) and therefore you get invited to a lot of events as a juror, panelist, correspondent, industry expert, etc. And you eat it up for all the free booze, movies and meals it is worth.
You also get to meet a lot of people. And two of the lovelier people I have met over the years are Filmmaker-Producer-Festival Head Michael Cain and his beautiful wife Melina. Michael was tabbed as the CEO/Artistic Director of the new
AFI Dallas
when it launched two years ago after doing the Deep Ellum Film Festival for many years. And Melina provides the perfect compliment/partner - both in spirit and in roll-up-yer-sleeves work.
Anyway, they graciously invited me to the fest this year as a short film juror (along with filmmaker
Harry Kellerman
). Of course, I immediately agreed. Especially since I'd never been to Dallas. My only regret is that the trip would conflict with my annual sojourn to Ashland, Oregon for the
Ashland Independent Film Festival
. It is, itself, a great festival and I am honored to be a part of its family. But I had other objectives to address in the trip to Dallas, including drumming up financial support for FA's Global Initiative (and
5 Minute Film School)
.
My expectations were high because I've been part of the
AFI Fest in Los Angeles
and I'm very impressed with the quality of that festival. Also, with Michael and Melina involved, I knew, at the very least, it would be an enjoyable experience. The actual experience, however, exceeded my expectations.
From the quality of programming by Sarah Harris and James Faust to the quality of the actual screening presentations to the quality of lodgings at the W Dallas to the gracious Lexus-driving chauffers to the tightly planned/run events to the the army of committed, supportive volunteers, every aspect of the festival was top-notch as well as warm and supportive. Of course, that all comes from the top down, and as I said, Michael and Melina are great peeps. The peeps who oversee all the AFI film fests as well as directly manage
AFI Los Angeles
- Christian Gaines, Shaz Bennett and Rose Kuo - all rock, as well.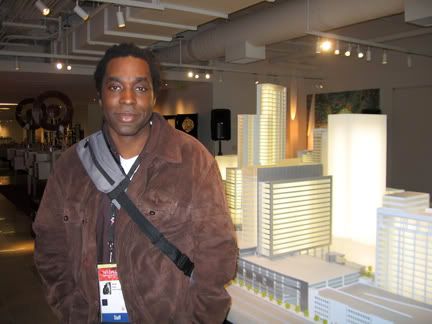 AFI DALLAS PROGRAMMER JAMES FAUST
Didn't get to see much of Dallas, beyond the official festival venues, but I did meet a few local filmmakers, Blair Rowan, Chris Gardner, Barak Epstein (makers of "
Blood on the Highway
"), their female lead Robin Gierhart and another local filmmaker Adam Donaghey. I pretty much hung with Blair, Chris and Adam throughout the fest and they were a drunken hoot - smart, fun and funny, but still responsible. Meaning, they were able to show up for work each morning after repeated nights of festival debauchery. They also had me laughing my ass off even when we weren't drinking. Bonding with these talented locals was definitely the highlight of the fest for me.
Blair Rowan, Me, Robin Gierhart and Chris Gardner
at "Blood On The Highway" after-party

So, of course, I had to see their film and I wasn't disappointed. It was all the hilarious mayhem that I'd hoped for - with raunchy dialogue so over-the-top as to be virtuosic. Hopefully, it will make it to
AFI in Los Angeles
and we can celebrate it with a raucous party. Check out the trailer for the movie
HERE
.
Finally, another of the best things about the fest was getting to watch 48 short films and discussing them with fellow juror Harry Kellerman. He's a smart, talented guy and a lot of fun so we were able to engage in some really thoughtful and inspiring conversations about the films....and not without a lot of humor. The programming was great, so the films almost always had some compelling elements to feed our discussions. In the end, the two that grabbed us the most both had, by sheer coincidence, a Dallas connection. Local filmmaker David Lowery's film "
A Catalog of Anticipations
" was an affecting, breathtaking fable to which we gave a Special Jury Prize. And we gave the Best Short Award to NY filmmaker, but Dallas native John Magary's "
The Second Line
" - a thoughtful, nuanced slice of post-Katrina that was a smart microcosm and metaphor for the kind of cultural and economic alienation that plagues too much of our otherwise robust country. It was truly a pleasure to meet, hang and discuss films with Harry and it all turned out to be among the best juror experiences I've ever had.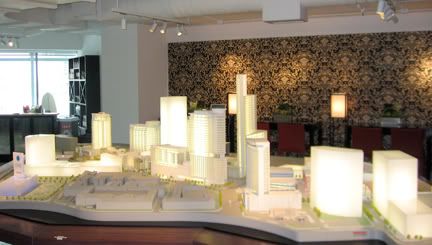 DALLAS IN MINIATURE AT THE TARGET FILMMAKER LOUNGE
I was impressed with the sophistication of the parts of Dallas I got to see. Saw a bit of old Seattle in the creative energy brewing there. Definitely great stuff going on so I look forward to heading back - if just to swap jokes with my new
Blood On The Highway
family. But I very much look forward to returning to the festival. Curious about how it will evolve and how much better it can get, because it is pretty damn good right now.