I don't know how hardcore bloggers do it. I admit that I can't keep up. I started out calling it "A Day In The Life Of This Filmmaker". Now, it's "A Week In The Life..." But chronicling my day once a week proved just too time-consuming. Nor was it all that fun for me. I got bored with myself. I absolutely love exercising Yatahey, but it's not so interesting to talk about. I'd bet some of you agree.
So, I'll pick a week once a month. This way, I can just point out the filmmaking-relevant activities each day and, therefore, more precisely continue to paint a picture for other filmmakers of how I maintain and manage a filmmaker's life.
Sunday, February 10th to Saturday February 16th, 2008


Sunday -
The
Filmmakers Alliance
Meeting - Wow. It was packed. We did a seminar by Marc Rosenbush who does the
Internet Marketing For Filmmakers
course. That's the self-empowering future for us filmmakers. And technical problems aside, the seminar went great. Afterward, Marc, his business partner, Fred Kramer from
Withoutabox
and I all went out to dinner and strategized about how to best support filmmakers through distribution. It was very exciting and inspiring and I got back just in time for the end of the FA meeting. Well, in time for the reception that ends each meeting. Just in time to party. That's me.


Monday -
Working regularly in the FA office. Ridiculous amount of emails to send and return. Mostly around sponsorship for
5 Minute Film School
. Started drafting part 2 of the FA Fundraising letter. According to marketing wisdom, gotta send out 3-5 of them to get people to pay attention. Personally, I find it incredibly annoying to receive 3-5 missives about anything. But if people marketed to people like me, they wouldn't make much money. So, I'll follow the plan because it seems to work with "normal" people.


Tuesday
- Morning writing session. I think I mentioned it before. Twice a week, I get up to meet Sean, Amanda and Cain (Tuesdays only) at 6 a.m. at a coffee shop to write. Tuesday on one side of town and Thursday on the other. We aren't writing anything together. Just motivating each other to write our individual pieces.
Only lately, I've been writing all kinds of other stuff - this blog, an e-book, business proposals, emails, etc. There's been a real need to focus on income generation for all of my various activities, so the creative stuff has had to take a back seat. But there is something else. I feel creatively dry. I've not only been avoiding the creative stuff, it also just isn't coming. And, it's finally starting to get to me. It's been over 2 years since I made my last film, the short "
Transaction
". I'm starting to feel more like a businessman than a filmmaker. But in the shower this morning, my mind starts drifting toward all kinds of story ideas - a profusion of them bursting out of my head faster than I can acknowledge them. I write down everything I can remember immediately after the shower. This is a good sign. I feel like I've had a successful day already and the other bullshit work I have to do seems almost pleasant.
Wednesday
- Met with my friend, Linda Miller (who also produced my feature, "
The Dogwalker
"), for lunch. She's Vice-President of Physical Production at
Yari Film Group
. Actually, because there's no President, she heads up Physical Production. We discussed how our company,
FA Productions
, might jump into doing bigger-budgeted films for YFG. Linda had some great ideas and made the proper introductions for me. I'm confident we'll find something to do with them. Am I selling out? Yes, a bit I guess. But I liken it to Orson Welles's acting career (sheesh, now I'm comparing myself to Orson Welles...oh, lordy). He sometimes did ridiculous acting gigs because it gave him the financial freedom to pursue his other creative passions - most notably his directing work. For me, producing is a day job. It's not that I don't care at all about what I produce - it cannot be spiritually objectionable to me - I just don't have to have the same kind of burning passion for the material that I would need to have if I were directing it. Of course, I ideally would ONLY produce films for which I had that burning passion. But those don't come along so often. Anyway, since putting a film together is such a nasty b****, why hustle and scrape to do itty bitty films when I can do the same hustling and scraping to do films that will earn me much more per film? Of course, I will still want to do some of those itty bitty films because they will sometimes fill me with burning passion. But that is not all I have to do. There, I've convinced myself I'm not a complete sell-out. Prove to me I'm wrong.
Thursday
- Back in the office, suddenly feeling pressure to finish addressing paperwork issues on both "
Within
" and "
Midnight Movie
". The films were produced through
Bigfoot Entertainment
, which is a privately held company but operates like a small studio. Independent filmmakers are not known for their anal-retentiveness when it comes to paperwork (although there are plenty of exceptions). But it is important to a small studio. So, we've had to clean up a ton of loose ends over the last few months. It's daunting because all of the producers, including myself, have to contend with tons of other distractions - like making a living. Granted, it should have been done right the first time. And dealing with it now, I'm really sorry it wasn't. Lesson learned. Anyway, I dig into it again. Ever so slowly clearing the weeds....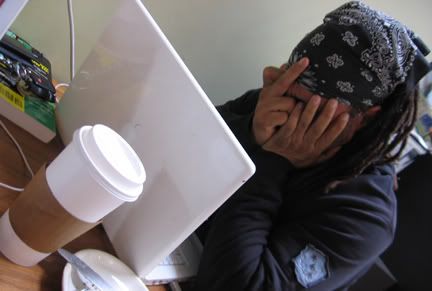 Also, I meet with one of our new investors for
FA Productions
. Things are moving forward. That's all I'll say for now. All good.
Friday
- Follow-up call Friday. I often reserve Friday for making a furious blitz of follow up phone calls. You just can't depend on email alone when trying to connect with people. Been trying to hook up with the YouTube folk to pitch them on one of my film-related, but non-filmmaking, projects -
5 Minute Film School
. They are harder to get hold of than major celebrities. That's because they've cloaked themselves in privacy the same way, but don't have agents and managers to act as their representatives. Even though we've been already been pledged a massive bit of support (which I cannot yet discuss), we still need key sponsors and resource partners. And YouTube is perfect partnership fit for 5MFS. I'll eventually get them, though. When that obsessive, feverish determination grabs me, I rarely can be stopped.
Saturday
- More emails. More proposals. All the stuff I need to do that doesn't require being done during business hours. I also have time to contemplate things, a bit. Life has been challenging for me over the past year in ways I don't wish on anyone. You'd think that would be fodder for creativity, but it hasn't been. Too painfully distracting. Or maybe it is fodder, but only now that I've had time to process it, now that I feel I'm turning a corner a bit. I tinker with my ideas for new films. I feel creative juices starting to flow, again. That feels good....