Awww, yeah. I'm in it. Already in the thick of the annual pilgrimage called the Sundance Film Festival. Maybe some of you have heard of it.
I'm writing from my condo at the Park Plaza (awesome hook-up from my friend/filmmaker/Park City local Stacy Dymalski) while watching the NFC Championship game. I take heart in the fact that it is colder in Green Bay than in Park City.
Is it a ridiculous scene? An over-crowded madhouse? A confluence of some of the most outrageous egos in the "independent" film scene? Absolutely. But somewhere in all of this is a damn good festival (the little things I like to bitch about notwithstanding). Although you can complain about the exhausting glut of name-driven programming, there is plenty of truly indie (and impressive) fiction and documentary features and shorts. There's good stuff to be found here. And good stuff to be found even in not-so-good stuff. Oh, there's bad stuff, too. But there's no reward without risk.
(below) FILMMAKERS ALLIANCE BABES AT SUNDANCE - Deb Lemen, Jule Janatta, Amanda Sweikow and Kruti Majmudar at the "Bigger, Stronger, Faster" party. (Jule was the editor of the film)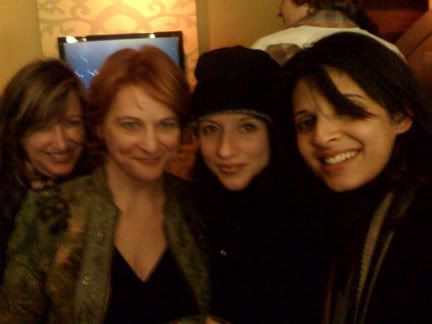 And many of the people I need to meet or re-connect with are here in one place. It is easier to see them here, sometimes, than in Los Angeles. It's good to be here, even though I had to suffer with witnessing a Paris Hilton sighting that looked like a mobile circus with frantic paparazzi, overzealous bodyguards and cooing syncophants vividly demonstrating how much extraneous bullshit goes on here. But hey, what's that got to do with me?
Anyway, here's the quick rundown - Drove in from L.A. on Friday afternoon wit FA cohort Amanda Sweikow. Hit insanely nasty traffic that created a 6 1/2 hour trip to Vegas (normally 4 hours) where we crashed at Kerry's house (the filmmaker whose film "The Revenant" I am producing with others). Didn't gamble a cent. Got up right away and drove the rest of the distance to Park City. Noticed a lot of sneaky, undercover cop cars in Utah. Highlight was singing classic rock at the top of our lungs from an iTunes-burned CD.
Hit Park City about 7 p.m. and quickly settled in. Grabbed a bite and headed out the the premiere party for "Bigger, Stronger, Faster" (about steroid use and cut by FA member Jule Janatta). Nice party. Good peeps there, including FA members Mia Trachinger and Rebecca Sonnenshine, whose film "Reversion" is in the New Frontiers section at Sundance.
Got home at 1:30 and got up at 6:30 to go see the 8:30 showing of "A Good Day To Be Black And Sexy". Gotta get there early for wait list, but we got there way too early for a Sunday morning. The film was uneven, and often felt like the first feature that it was, but it had a lot of great stuff and gave us a depiction of sexuality that had an honest, striking, refreshing and unapologetic black urban perspective. And I liked the thoughtful way in which the filmmaker thought and talked. And he's funny. I look forward to seeing more of his work.
Then, onto the SAG Actor brunch, where I saw the fabulous head of SAGIndie, Darrien Gipson, whose good energy, humor and professionalism makes her irresistible. It's important to know that SAGIndie is there for producers NOT to represent the needs of actors. They let SAG worry about all that.
Then, back to the condo to catch the AFC Championship (and a nap). Then out to the Withoutabox party where they celebrated their big sale to IMDB. I was once Chief Communications Officer for Withoutabox and was almost a partner. Of course, I don't own a single share of stock. Story of my life. But I'm very interested to see what this will mean for independent filmmakers. IMDB is owned by Amazon. Small companies that service small filmmakers traditionally lose all relevance for indies when they've been sucked up by the big corporate giants. But Withoutabox has such promise through it's services, community and database, I hold out hope that it will prove an exception and develop even more services for indie filmmakers.
Also, I quickly dropped in on the NBC/UNI party to see potential sponsor Krista Bolling, then raced back to the condo for the NFC Championship game. After that, we go to the Indie Moguls party by Fujifilm/Fotoken and others. And from there, who knows? There are at least 20 other parties tonight.
Here's my schedule for tomorrow:
Movie (TBD) - 8:30 a.m.
SAG Filmmakers Luncheon 11 a.m.
Rest and work - 1 p.m.
Technicolor Party - 4 p.m.
Ivy League Entertainment Mixer - 5:30 p.m.
Netflix/Red Envelope Sundance Dinner 8:00 p.m.
Adobe Shorts Party 9 p.m.
Some quick Park City Reminders:
- The bus system rocks. I have a car, but parking is hell. Why drive unless it it out of Park city?
- The restaurants generally suck...and are expensive. I cook in the condo and starve until I get to party food.
- Glad I brought booze. This is Utah, after all. Can only purchase it from State stores during limited hours (and not on Sunday) that are really expensive.
- Morning screenings are waaaaay easier to get into if you have to wait list than any other screenings.
- Gotta drink a lot of water and pace myself. So many parties...so little time.
- Lots of people that give Independent Film a bad name, but many, many others are here that are the reason I love this life.
More in a day...or two.