As in the past, sorry again for the long gap in communication. This is, after all, a blog called "A Filmmaker's Life" and you're not hearing very much about it, even though it's been extremely active. I've said it before and I'll say it again, I don't know how real bloggers do it - consistently contribute to their blogs. To me, it's like people who someone how manage to snap photos of stuff while it's happening. How do they
experience
things and document them at the same time? Well, I suppose it needs to become a habit, maybe even an obsession, for which you simply find the time to make happen. So, enough excuses and apologies, here goes....

First of all, I'm kinda stunned that it's already full Spring - the first decade of the new millenium passed 4 1/2 months ago - along with my 50th birthday (in December, actually). Wow! It feels like time is moving at light speed. I celebrated the big 5-0, back in December, in high style, with a massive party (shared with my twin brother Andre, of course, as well as my former partner in crime Amanda and the FA Holiday party) at dear friend Cain DeVore's gothic, never-ending-renovation manse.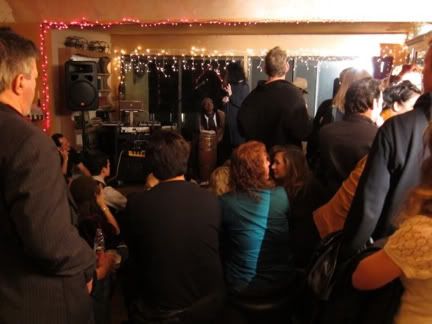 Me on the bongos during "open mic" portion of the big b-day bash...



But although I partied like it's 2012, it was, nonetheless, an obvious over-all milestone time for reflection. So, of course, I've been thinking a lot about my life since then, and in regard to this blog, specifically my life as a filmmaker. And in the end, all my introspection has only left me terribly conflicted.

I love the support work I do through Filmmakers Alliance (FA) and proud of the things we've accomplished over the years. But independent film as a whole is facing some major changes and challenges and FA is mirroring this transitional angst in its own way. The issues on a global (indie film universe) and local (FA) level are both external and self-generated and, in no small way, also contributed to by filmmakers themselves. However, the challenges simply make me more determined to make FA financially solvent and to help build a paradigm that allows individual filmmakers to make films that are realized at the utmost level of their creative potential while those films also sustain them financially.

However, all of this effort cuts into my own creative time. Not just projects I write and direct, but others I can produce for friends or support in some other hands-on way. Am I simply distracting myself - perhaps even hiding - from realizing my own creative potential? And why would I do that? Lack of confidence in it, perhaps? Don't know the answer for sure. I only know that, for now, I am using every tool and technique in my power to make sure I give myself creative time and maintain a balance of energies between support and creativity....then see what happens. I can't complain too much - for all its headaches, my "day job" is also my passion and directly supports my creative/filmmaking life.

In the meantime, I'm just doing my thang. There are certain key events and festivals I always attend, never knowing how, or even if, they will lead to some beneficial opportunity for FA or the larger indie filmmaking community or simply myself. I don't mean to sound mercenary, but with limited time, I unfortunately can't do too many things that wind up being just a fun vacation. Independent Film Week in New York is one of those events that I always attend for many reasons and I was there again in September 09. I did a write up on the 08 incarnation (http://filmmakerslife.blogspot.com/2008/09/independent-film-week.html) that's still relevant.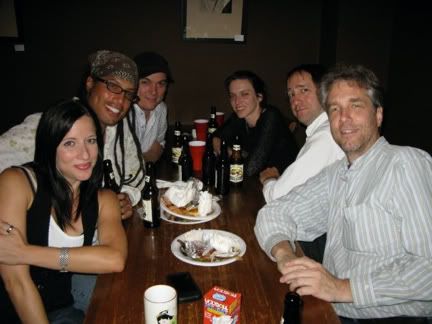 Me and the gang at the Florida Film Commission's Wasabi Party during Independent Film Week 09.



But I must say, the 09 version, provided a very tangible sense that something is amiss in the independent film universe. Of course, something has been amiss for awhile. I and many others have been speaking about it for years and I allude to it in my previous Independent Film Week write-up. But as long as filmmakers were making films and events/festivals/screenings/celebrations were cranking full throttle you could easily stick your head in the sand, letting independent film's issues remain abstract, theoretical or resting somewhere on the horizon. However, there was no escaping a sort of gloom hanging over things in September. The event was even more scaled down in 09 than the scaled down version in 08. There were few parties and side events and no formal awards presentation. The conferences felt somber and a bit stale. It seemed everybody knew indie film is suffering through some serious problems, but no clear idea how to address them. I made the most of it because I saw films, partied with filmmakers (including my friend Jen Arnold whose film, "A Small Act", was terrific and meaningful) and I was in New York. But it felt like I was painting by the numbers a bit while something more important (although I have no idea what) needed to be done.

That same feeling haunted me again at Sundance. It is another never-miss event for me because there is so much and so many all in one place. After a fun, freezing but ultimately fruitless fundraising jaunt in NYC over the holidays - which also allowed me the opportunity to have my first cross-country private jet ride (definitely the way to travel if you have the chance) and witness my first and last bull-riding show (all part of making "connections") I was very excited about hitting Sundance.....even though my short film was rejected :).
Having had short films there in the past as well as being a participating organization through FA,
I am a big fan of Sundance and the people that run it - including the new festival director, former head of programming John Cooper. I very much wanted to see what he would do with it in his hands. I expected to see much of what I love about the fest sans all the extraneous b.s. And that's exactly what I got. Due to an across-the-board sponsorship crisis, it was indeed scaled back...and for the better. In many ways, the fest this year was a huge success - strong programming and, over-all, much cleaner and clearer in focus than its been since I started attending. And, of course, I had fun, as always.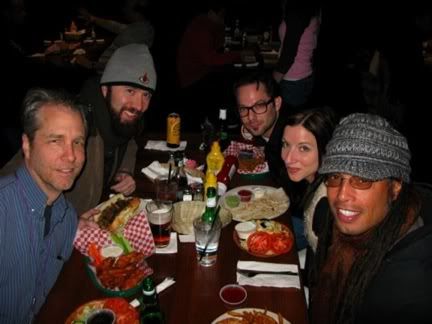 The gang, again - although slightly changed - at Sundance 2010.


But, as I said, there was definitely a palpable lack of
something
in the air emanating from those outside the central fest experience (festival workers and filmmakers). Indie film veterans were gloomy. Non-fest filmmakers seemed to be a generally cynical lot while other attendees were impatient and critical. Industry professionals were exhausted and workmanlike. Parties were crowded, as usual, but uninspired. Again, I can't exactly put my finger on it, but something was, and is, amiss.

That off-kilter energy may have just been my own projection, because there was plenty amiss in my own backyard. FA was suffering through it's worst financial crisis in a very long time. On top of it, member participation and productivity was very low and not very inspired. Amanda, as Executive Director and partner in all things FA, was meanwhile overly stressed by the demands of single-handedly managing the daily life of FA - including skirting financial ruin daily and putting up with my....well,....me. I was unsure what annoyed her more, me being around or me rarely being around. Most importantly, her own creative productivity needed the attention it deserves (she's a VERY talented filmmaker). Ultimately, she made the decision to leave FA. I know it was a tough choice for her, but a necessary one. I truly wish her the very best. I don't expect to find anyone as awesome as Amanda to take on all of this stuff, so I'm working it all out another way. Amanda was nothing less than a gift from the heavens and I'm truly blessed to have had her for a partner for as long as I did.

But she won't be too far away as she is one of the producers of the winning film from our Ultimate Filmmaker Competition - "
Walrus Eating Baloney
" by Benjamin Bates. The final five were all awesome films and the filmmakers were terrific. I truly hope they all get made and will help as much as possible in making that happen. But Benjamin is a force of nature, his script is fantastic (it also won the script award at Independent Film Week 08) and we know it can be made for the prize fund ($200k). Again, not that the other films weren't equally deserving. It was a tough choice, but this one just seemed the best choice for us. If we could find a way to get all the other great films made and distributed, independent film might begin to redefine itself dynamically. Too many potentially great films get left on the page while far more mediocre projects get made. As my previous blog (a reprinted article by Mike S. Ryan) pointed out, the bottome line issue facing indie film right now is its inability to distinguish itself compellingly from the mainstream or from strong cable programming. And that issue begins, obviously, with the type of films that are being financed, made and distributed.

So my current mission is to attack that issue while making my life and work at FA more manageable and sustainable. Our main approach to achieving these goals is through the creation of what we've been calling FA Global (described and referred to in earlier blogs) - a place for filmmakers to connect, organize, develop, fund and manage projects, access resources and education, share ideas and resources, and anything that can be done to support filmmakers online. A one-stop, online destination for filmmakers, Quite ambitious. Obviously, we can't do this all ourselves. But with the right partners, totally possible. It's what I've mostly been trying to raise money for. Been getting small bits of $$ to push things incrementally forward while still waiting for the big check to come in. And it will, I have no doubt. In the meantime, I've been meeting with dozens of potential partners. A lot of cool stuff out there, but bringing it all together in one place has been quite the challenge....

We're also attacking FA's (and independent film's) issues through education. We are hosting a big, one-day seminar August 1st that is exactly as titled -

The Independent Film Master Class

, which I'm very excited about. If we are going to keep independent film vibrant, we can't just discuss the issues theoretically, we need to provide filmmakers with a real, practical road map for creating successful indie films. We hope this will prove a valuable first step - with more, detailed seminars to follow closely behind this one.

Beyond that, I'm also doing the daily FA stuff - struggling to adjust in the wake of Amanda's departure. Vidyut Latay, who, like Amanda, started as an intern, has now taken on a number of key tasks. Which is great, because production activity at FA seems to be on the upswing. Monthly meetings have been well-attended and vibrant and we've had a number of awesome screenings at the Echo Park Film Center. All good! Now, VisionFest is already right in front of us and the massive work on that needs to start getting done right away. Sheesh.

I was able to enjoy a stint as a juror at The San Francisco International Film Festival, which is a great fest run by the well-funded San Francisco Film Society. The programming is excellent, of course, because the new head of programming is the lovely, wonderful Rachel Rosen, most recently the former programmer of the Los Angeles Film Festival. I had a blast and loved my fellow shorts jurors, filmmaker Kelly Duane and film critic Robert Abele. The shorts were, over-all, very strong and, although selecting favorites was very tough, we were very happy with our choices. I've developed some strong opinions about short films and fimmaking (going to do a blog soon about them), so it was great to be enthused about what I got to see.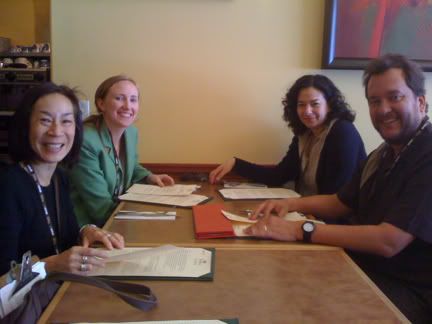 San Francisco International Film Festival gang. Left to right: Audrey Chang, Kelly Duane, Rachel Rosen and Robert Abele.


On the creative front, I submitted my newest short, "My Last Day On Earth" to just a handful of festivals I'd already attended including the biggies. Didn't get into the biggest fest, but got into one of my definite faves - The Ashland Independent Film Festival. I drove up to Ashland, Oregon from L.A. and picked up my parents in San Francisco on the way. As usual, it was a blast.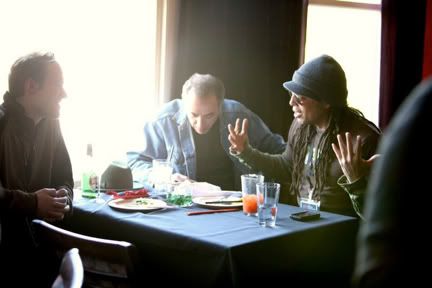 At Ashland Independent Film Festival talkin' filmmaker stuff with...well,...filmmakers!


I love the festival staff and all the locals I've come to know after going to the fest 6 of the nine years its been in existence. Ashland's a great city, too. Of course, it was great to be there with my peeps, who also had a great time. It's great to be at festivals as a filmmaker, even if I kinda sometimes feel like I'm wasting time (I should be working, shouldn't I?). You make a film for an audience and its great to get the opportunity to experience it with them. And it reminds you that with all the drama and distraction around filmmaking and film-related events, it really boils down to the films, themselves, and the relationship they forge with an audience. And the Ashland fest has terrific audiences - full screenings and fully engaged peeps.

I've also been working more diligently on the script for my next feature (ten years after the first!). I still do the twice-weekly, early-morning 4-5 hour writing sessions with Sean Hood, but I've been horrible about dedicating that time to actual creative work. I usually end up using that time to answer emails, write proposals, tweak the business plan, etc., etc. In other words, work. I rarely even use the time to work on this blog. But I joined my friend (and fellow FA member) Hanelle Culpepper's accountability group - which takes place in 8 week chunks. Group members share their 8 week goal then establish weekly goals. Each week, you get them done. If you don't participate consistently and/or consistently fail your stated goals - you're out. I've made my goals ALL about my script and it's been great. The group totally kicks my ass - in a sweet, supportive, but firm way - and makes sure the script moves forward. I should have the first draft done after the next 8 week stint. Hooray for me!!

So, that's pretty much the whole, up-to-date ball of wax. I'm in NYC right now doing the usual - fundraising and building partnerships. But planning and organizing from afar, as well. And, of course, writing, too. Things are moving. Things are happening. Despite my conflicted feelings, I'm full of optimism. Maybe it's just because it's Spring. But, together, I feel we are beginning to, and definitely will, lift the cloud of doom and gloom hanging over indie film. Yes, I can feel it. I can feel some beautiful things starting to bloom this Spring....