The short film is an art all of its own. And short filmmakers, whether they have or will make a feature, have an energy all their own. And a shorts festival has a vibe all of its own....
And the
Palm Springs Shortsfest
is, to my knowledge, the largest short film festival in America, so it has the biggest, baddest vibe of all. Hundreds of filmmakers descend on it, with all sorts of disparate agendas that converge behind a singular question "How do I continue to make films". And they fling themselves at this festival with reckless abandon because it attracts a LOT of short film programmers, distributors and other industry folk.
But what's great about
PS Shortsfest
is that it plays as much to the local audience as it does to the industry. Consequently, most screenings (at least the ones I went to) were good and crowded. Most people think the Palm Springs audience is strictly queer and/or geriatric. Not strictly true. But mostly true. And what's wrong with that? Within those two sometimes over-lapping demographics are a whole mix of ideologies, personalities, ethnicities, religions, etc., etc. It's a very sophisticated and very diverse audience if can you look beyond the broad labels. And it's a good lesson in respecting your audience and understanding who they really are. But there are also plenty who attend who fall outside of those demographics along with the aforementioned filmmakers and film industry types.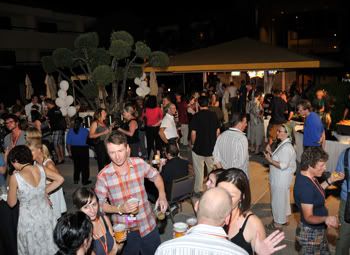 Filmmakers, audience, programmers, jurors, festival organizers and other tangential folk eat, drink and plot their filmmaking lives.
As usual, there are plenty of opportunities to connect with other people, including panels, discussions, workshops and a party every night at various venues around Palm Springs. A made it to 4 of them. You often see the same faces repeatedly and, over the course of a couple of parties, you quickly form kinships. As I always say, it may be great to meet this bigshot or that bigshot (who are always being solicited), but the best connections you can make are to other filmmakers. Among them, someone can always answer your question or point you in the right direction.
Anyway, I was brought down there again by friend/comrade/shorts guru/over-all fabulous woman
Kim Adelman
, who either puts me on a panel or has me do the One-on-One sessions with the filmmakers. Sometimes both. This year, it was just the One-on-One's...which I love. I'm put in a room cut in half by a room divider - my friend
Ric Halpern
from Panavision was on the other side - and filmmakers are brought in one by one for ten minute consultation sessions over a 2 hour period. If they're smart, they've done their homework on me and know how to focus their questions to make the most of my strengths. The filmmakers sign up in advance, choosing with whom they want to meet. Both Ric and I had full schedules. For some reason, Ric had all cute girls and I had all European men (with one Indian filmmaker).
I didn't mind. What I love most is the passion and enthusiasm these guys bring to the table that you don't find with a lot of feature filmmakers who are too busy stressing about how they will pay their investors back or set up a lucrative distribution deal. Those are non-issues with shorts, so the focus is on what can be done with the short and how can it lead to the next film. With the Europeans I spoke to, most were interested in how they can work in America...or at least make a name for themselves here. When you see the over-all production quality of the European shorts and the amount of government funding available (which doesn't exist here), I couldn't help asking them "WHY?".
Of course, I know the answer. America is the home of "professional" filmmaking and they want to do this for a living. But that is more illusion than anything else if you look at the numbers of aspirants versus the number of true "professionals". Nonetheless, I told them to take their filmmaking opportunities wherever they show up - in their home countries, America or Kazakhstán, as the case may be. The real key is getting your work SEEN here in America by the people that can assist in creating a life as a "professional" filmmaker.
But more importantly, I told them what I tell American filmmakers: if you want to attract attention to your filmmaking - from anybody - explore a story, theme or general aesthetic that is, if not personal, incredibly distinctive and compelling - inimitable in a striking fashion. A film that no one else could do...or perhaps even think of doing. Most stared blankly at me, looking confused. Maybe even annoyed.
However, I agreed to watch their films. Perhaps, they asked, I could recommend them to a festival or production company. I watched all I was given and, at best, saw a lot of really strong, polished work, but nothing that struck me as an original or genius concept, theme, idea or aesthetic approach.
But there was indeed some great work and plenty of good work at the festival. Here's a rundown of some of the award winners:
BEST OF FESTIVAL AWARD:
6.5 Minutes in Tel Aviv (Israel), Mirey Brantz
Lovers parting, families traveling, businessmen commuting -- a Tel Aviv bus station is the setting for an unexpected confrontation brought on by fear and panic in this part of the world where it only takes a minute for the landscape to become completely unrecognizable.
FUTURE FILMMAKER AWARD:
Marçal Forés, Friends Forever (UK)
Returning to school following the death of his closest friend, Chris, young George is bedeviled by his friend's ghost, who seems to follow him everywhere. But who is doing the following?
Honorable mention for this award went to Nicolas Brault for Hungu (Canada).
PANAVISION GRAND JURY AWARD and MINI MOVIE CHANNEL AWARD for BEST LIVE ACTION SHORT UNDER 15 MINUTES:
A Good Day for a Swim (Romania), Bogdan Mustata
This harrowing short film, winner of the Golden Bear at this year's Berlin Film Festival, follows the trail of a trio of young sociopaths as they pick up a young woman they find at the side of the road and take her to the beach for a day of amoral pursuits. Not for the squeamish.
BEST LIVE ACTION SHORT OVER 15 MINUTES
Cairn (Norway), Hanne Larsen
Young Johan wants to be accepted by the cool guys at school, so he joins them in a cruel prank, shutting another boy from their class in a cold, dark cairn underground. When a series of circumstances cause him to leave the boy in the cellar, his actions have consequences that he could never have anticipated.
BEST ANIMATED SHORT
Hungu (Canada), Nicolas Brault
A deeply moving meditation on migration, traditions and family are visually imprinted in striking black and white animation.
BEST DOCUMENTARY SHORT and AUDIENCE FAVORITE DOCUMENTARY SHORT:
The Witness: The View from Room 306 (USA), Adam Pertofsky
This riveting short documentary recounts the incidents leading up to, during and immediately after the assassination of Dr. Martin Luther King, utilizing archival footage and photos, first-hand accounts, and interviews with a number of the people who participated in the events of that time.
AUDIENCE FAVORITE LIVE ACTION SHORT
Toyland (Germany), Jochen Alexander Freydank
When a young boy's mother, responding to her son's question about the whereabouts of his best friend (whose family has been put on a train for the camps), tells her son that his friend has been sent to "Toyland," the boy sneaks off to join him.
AUDIENCE FAVORITE ANIMATION SHORT
This Way Up (UK), Adam Foulkes, Alan Smith
Two undertakers run into a number of slight problems delivering a body for burial.
It was all incredibly fun and creatively inspiring. Get your filmmaking butts down there next year, if you can....whether you have a film in the fest or not. There's much to learn, many to meet and tons o' fun to be had.