Yes, dear filmmaking comrades, another major fest,
The Los Angeles Film Festival
, is in full swing. And, as usual, I am jumping right into the thick of the action, although I am getting a slow start this year.
The Los Angeles Film Festival, like AFI Fest is a world-class festival but I still count it among a handful of hometown fests (
Los Angeles Film Festival
,
AFI Fest
,
Dances With Films
,
Silver Lake
/
Downtown Film Festival
) where I get to schmooze and groove with my local filmmaking community - many of whom I only see once a year at this festival.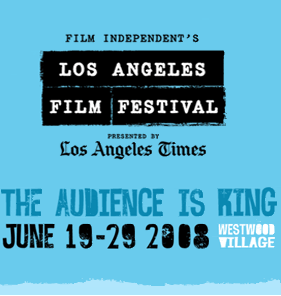 But it is already Day 6 of the festival and I'm just getting started. After Opening Night, I headed up to the Owens River Valley to work on an exciting art/film project with artist Lauren Bon (an amazing experience in itself that I you'll hear about in my next blog) and was not back on the festival beat until late Monday.
"Wanted" screened at the fest's Opening Night Gala to generally approving audiences (I missed the screening). Most of the peeps seemed to think that the style and energy of it managed to overcome the commercial studio silliness of it all. By commercial studio silliness I mean the compendium of usual studio filmmaking ills - shallow but self-important story-telling, predictable, exploitive and over-produced filmmaking, etc. But I'd say the general consensus was that it was still a stylishly entertaining popcorn movie.
Since moving to Westwood, the opening night party is always on the street, which I really appreciated in the midst of this brutal heat wave. The party was fun, as usual (although always more subdued than closing night) and it was great to see so many faces from my filmmaking community - some dating back 15 years. I even saw Robert Faust, who founded the fest in its original incarnation as the Los Angeles Independent Film Festival. Obviously, opening with a film like "Wanted" makes it clear why the word "independent" has been removed. Being an indie filmmaker, I was, at first, a bit upset by this change and perceived shift in focus - especially since the fest is produced by an organization called Film Independent. But I have been a part of the fest for awhile now and can clearly see the commitment to indie filmmaking is still very much alive, even if it is no longer the sole focus of the festival. It has become a much broader, more expansive festival and has been enormously successful in that evolution.
With that success, however, comes the usual, if annoying trappings of it, like the special VIP section of the party that offers no meaningful distinction from the other part of the party besides exclusivity, a sort of boring pomposity and slightly shorter food/drink lines.
But, although a parties are an important part of any festival, they are not the soul of a festival. The films are the soul of the festival. And the programmers at Los Angeles Film Festival rock! I'm looking forward to seeing an awesome line-up of films this week.
Here's what I'm planning to see for the remainder of the festival:
- Any shorts program
- Ballast
- Prince of Broadway
- Medicine For Melancholy
- Must Read After My Death
- The Boxer From Shantung
- Finishing Heaven
- I'll Come Running
- The Short Films of George and Mike Kuchar
- Milestones
And there's loads more other stuff I won't be seeing. So, if you're in Los Angeles - get there, see films and experience the true soul of the fest.